Discover more from InkBlot's Substack
InkBlot Art's Newsletter! Explore and Discover the next new creative home for creators around the world! Pro Membership via InkBlot will gain access to our paid subscription here! We love to reward our supporters for supporting us.
Over 21,000 subscribers
September InkBlot Newsletter: Last Day for the Summer Sprint, Instar's Launch, Community Meet & Greets, & More!
Find out about Instar's Closed Beta, our upcoming meet & greets & more!
Instar Launches Today
Instar is here for our Closed Beta Testers. We will be inviting monthly supporters (Go Pro, Kofi & Patreon) first before starting to roll out invites to those that signed up using the waitlist (no monthly subscription required).

Closed Beta will only be for the creators, otherwise supporters will not need an account or invite. We are are prioritizing supporter at this time but we hope to have more over 500 creators by the end of this year!

Supporter keep an eye out on your email or account messages as we invite you with invite codes.

With this in mind, we are expanding our Volunteer Moderation & Community Events Teams! Please apply if you are interested in joining a team of creatives looking to change the future!
Summer Sprint Ends Today @ 67% Funded!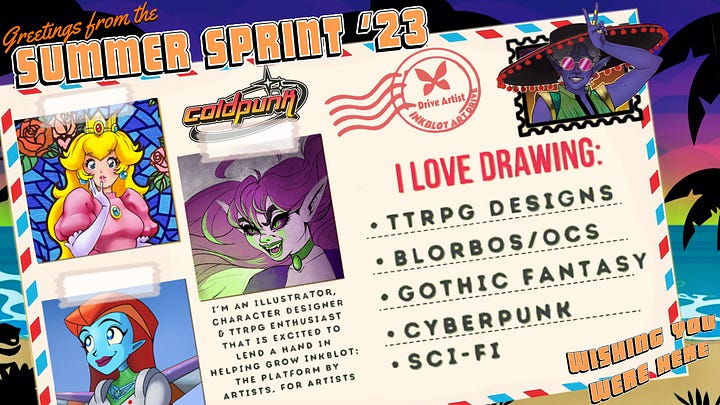 The 2023 Summer Sprint ends today and we are at 66% of our goal! We have extended it to end at 11:59PM MST! Donation or Kofi Shop Orders of 10USD made before then will receive a free sketch reward from one of our 60+ artists! Any support towards the development of InkBlot is appreciated!

Make a donation or Shop order for our InkBlot Merch at our Kofi Shop https://ko-fi.com/inkblotapp
Have you heard about
Glaze
?
Glaze is a system designed to protect human artists by disrupting style mimicry. At a high level, Glaze works by understanding the AI models that are training on human art, and using machine learning algorithms, computing a set of minimal changes to artworks, such that it appears unchanged to human eyes, but appears to AI models like a dramatically different art style.

-Glaze Website
Lead by Project Lead Ben Zhao, Glaze webapp was used by our Summer Sprint team artists to post and send out sketch requests! The Glaze team has shown that they are very supportive of the rights of creatives around the world and their fight against AI-gen. Please check them out and support them!

They have recently made their webapp which is invite only at this time.
[COMING NEXT MONTH] Draw with InkBlot (Meet and Greet)
InkBlot will be hosting official bi-weekly Meet and Greet draw piles! Draw piles are when a group of artists come together and draw on a "single canvas". This usually means folks are doodling, collaborating, or just watching while vibing. While you don't actually have to draw, you can still come hangout and meet some cool members of the community as well as some staff and/or volunteers of IB!
Until then, be sure to follow the Official InkBlot account and Angel on site to keep up with future updates.


Join our Official Discord
Join our official discord where you can meet with community and follow updates, events and more! Our discord has 1.5k+ creatives and art lovers from around the world. Join us!

Do You Want to Help Out InkBlot?
Positions are Open!
Check out all available position applications here: https://jobs.inkblot.art/
Join our Moderation Team, Community Events team or Drive team as volunteers towards something great!

Our Support Team has a PAID position open as well!
---
We are proud partners of: